Weekly New Jersey Devils and NHL update. Kovalchuk hits 400 goals and 3 fights erupt in the first 3 seconds of the Devils/Rangers game.
As the playoff push continues in the NHL, the New Jersey Devils made headlines quite often this week. It all started on Monday when the Devils faced their hated rival, the New York Rangers. Three seconds in, there were three (yes, 3) simultaneous fights. Was this staged? Well, I've never walked into work and immediately jumped on a co-worker and had other people follow my lead to start the day with a morning "discussion". On the other hand, I don't get hit while trying to do my job for 60 minutes because that may lead me to walk into work with a different attitude. Point being: Was it staged? Probably. Was it out of the norm? Absolutely not. This is not something new between the Devils and the Rangers – their rivalry is full of emotion. Usually anger-filled emotion, but emotion nonetheless. The same thing happened at the end of December and the same will continue to happen for these two teams. Out of everything, the strangest thing to happen that evening were the comments made by John Tortorella, the New York Rangers coach. He was furious that the New Jersey Devils would put out such a starting lineup that indicated a fight would occur and he had to match it since he was so afraid of what would happen to his top lines. Really? You don't think your top lines would just skate all over New Jersey's fourth line and score a goal one minute into the game? Wouldn't that set a better tone? Instead, Torts was afraid his top line would be injured. I didn't realize New York's top line was so fragile, I'll try to remember that next time.
On the second night of back-to-back games for the New Jersey Devils, they faced
the surging Ottawa Senators on Tuesday. The game's only goal would be Ilya Kovalchuk's 400th of his career. That's a big deal. That makes him only the 87th NHL player to reach that milestone and currently the 3rd active player to do so in less than 900 games (this was Kovalchuk's 771st game) behind Teemu Selanne (700) and Jaromir Jagr (742). Let me rephrase – that's a big deal! If I were to score my 400th, I would be skating all over the ice screaming like a kid who just won free ice cream for the rest of my life. Instead, Kovalchuk's reaction is on the video at the top of this article.
Kovalchuk just stands there as his teammates are more excited than he is. I was more excited sitting on my couch at home. I was clapping. Who claps while sitting in their living room watching a hockey game? I do – don't hate. THIS is what his face should look like: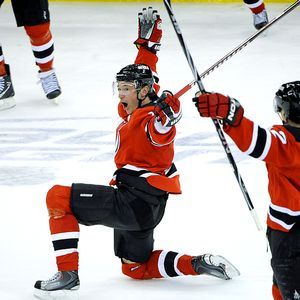 Sadly, that picture was taken from a random goal. Those goals apparently make him happy, obviously a milestone game-winning goal is nothing. Silly of us to think otherwise.
In other NHL news, Torrey Mitchell of the San Jose Sharks, practiced with a hanger that was placed on the bottom his jersey as a prank by his teammates. He didn't notice that? I understand that wearing pads you wouldn't necessarily feel something small like a hanger, but he's going pretty fast and it just keep flapping. Did Mitchell think his teammates just kept tapping him on the behind during practice? They must be a friendly bunch. Here is the video.
One last question: Did Sidney Crosby return this week? I didn't even notice, I'm surprised no one would mention this or have 150 stories per day to discuss this. I'm glad I broke one of the biggest NHL stories of the year – CROSBY RETURNS!
You can follow me on Twitter!